Ethiopian Receives Award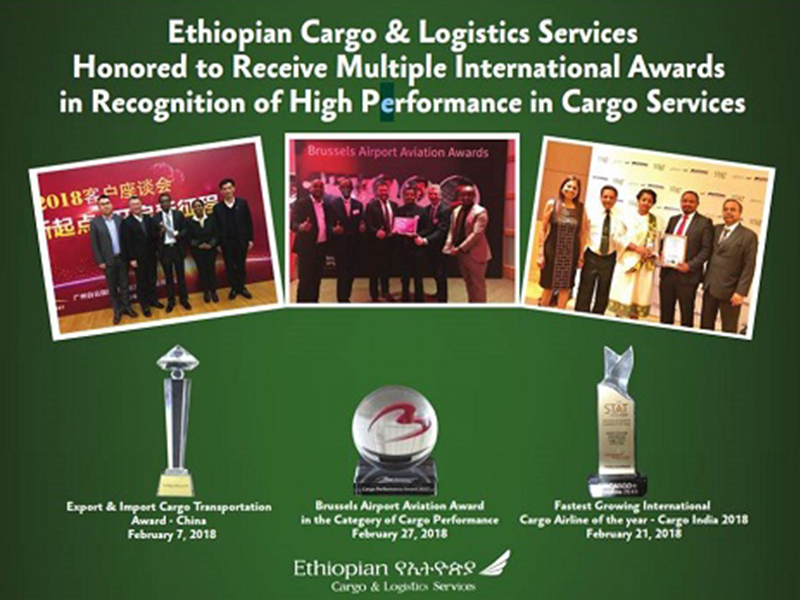 Ethiopian Receives "Fastest Growing International Cargo Airline of the Year" Award
Ethiopian Cargo & Logistics Services has also been awarded as "Fastest growing International Cargo Airline of the Year" at Air Cargo India International conference held in Mumbai on February 21, 2018. The biennial awards ceremony was held in conjunction with the seventh edition of Air Cargo India exhibition and conference, recognizing cargo carriers with immense progress and leading innovations in the air freight industry while enhancing customer experience. The winners of the prestigious award were selected through online voting system by STAT Times readers.
Group CEO Ethiopian Airlines, Mr. Tewolde GebreMariam said, "We are very honored by this prestigious award. Ethiopian Cargo & Logistics is one of the fastest growing strategic business units of the Ethiopian Airlines Group. In addition to the belly hold cargo capacity that it avails to more than 110 international Destinations, It currently flies to 44 dedicated freighter destinations on 5 continents using 8 dedicated freighters including 6 wide-body ultra-modern Boeing B777-200LRF with another 4 on order and operates cutting-edge cargo terminals in Addis Ababa, our main hub, with a capacity to accommodate 1 million tons annually. Today, it transports around 400,000 tons cargo annually supporting Africa's trade and economic growth. In line with our Vision 2025, we aim to double this figure to 800,000 tons annually and contribute our part to the economics renaissance of Africa in general and Ethiopia in particular."in 2017.
Ethiopian Cargo & Logistics is currently striving to be the most competitive and leading African cargo airline by providing safe, market driven and customer focused cargo, courier and mail transport services by 2025.
The professional cargo-handling ability of China Airlines has won frequent praise from customers. The airline has extensive experience with the transportation of special cargo such as precious antiques and precision instruments including artifacts from the Vatican, exhibits from the Museum of Oriental Ceramics in Osaka and the Kyushu National Museum in Fukuoka, and Qin Dynasty terracotta soldiers from the Xian Museum. China Airlines has also transported equipment and materials for international performing groups and artists such as Cirque du Soleil, Coldplay and Madonna in recent years. All effort is made to provide every customer with the best and most satisfactory quality.
The China Airlines fleet currently consists of 97 passenger and cargo aircraft including 21 Boeing 747-400F freighters. There are 93 freight destinations including 10 freight-only destinations and up to 88 freighter services each week. The emerging Indian market and growing Asian cargo sources are now being actively targeted by China Airlines. The Taipei-Delhi-Luxembourg-Taipei freight route was launched last year and a second weekly service is now being planned. The Taipei-Singapore-Penang-Taipei freight service was introduced in March this year as well. China Airlines is now introducing new A350 and 777 aircraft. The carrying capacity of passenger aircraft's belly cargo and the freighter fleet will be used to develop a cargo network with Taiwan as the central hub. Inter-regional freight destinations and services in Asia will integrated with European and American trans-oceanic routes to offer a transportation service with optimum transfer times. (2017/04/14)